Much History Buried in Facts About Tennessee Counties
During my decade and a half of writing content for the Tennessee History for Kids website, I've come across many interesting facts about Tennessee's counties — their geography, how they were named, how they were formed and how their populations developed. There are quite a few history lessons buried here. For instance: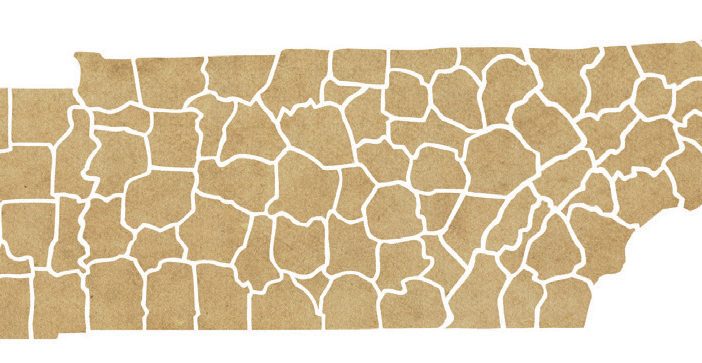 NAMING QUESTIONS
Tennessee has 95 counties — 90 named for people and five for places. What five were named for places?
Unicoi County is named for the Appalachian Mountains, Cumberland County for the Cumberland Plateau, Lake County for Reelfoot Lake, Obion County for the Obion River and Sequatchie County for the Sequatchie Valley.
How many counties were named for famous Civil War veterans?
None. This may seem hard to believe, but keep in mind that the vast majority of counties were formed before the Civil War. Also, in spite of what people seem to believe now, Tennesseans were not anxious to glorify the Civil War in the decades immediately after it. Even though there were some counties formed in the 1870s, none was named for a prominent Civil War person such as Robert E. Lee, Nathan Bedford Forrest, Ulysses S. Grant or David Farragut.
Is there a county named for President Andrew Johnson?
No. Johnson was so unpopular in Tennessee during his lifetime that in the 1870s, when several new counties were created, none was named for him. (In case you are wondering, Johnson County was formed in 1836 and named for a settler named Thomas Johnson.)
How many Tennessee counties have changed their names?
None. It is relatively easy for a town or city to change its name but not for a county to do so. However, it should be mentioned that in Tennessee's short phase as the "Lost State of Franklin" in the 1780s, present-day Hawkins County was called Spencer County, present-day Jefferson and Hamblen counties were called Caswell County and present-day Johnson and Carter counties were called Wayne County. But neither the state of Franklin nor those county names ever became official.
What is the only county in Tennessee named for a woman?
Grainger, which is named for Mary Grainger Blount, wife of William Blount.
What is the only county in Tennessee (and probably in America) named for someone because he or she killed themselves there?
American explorer Meriwether Lewis is believed to have killed himself in present-day Lewis County in 1809. Thirty-four years later, when the county was formed, it was named for him. Surely there isn't another county in the U.S. that is named for someone because he or she killed themselves there, right?

What is interesting about the naming of Washington, Jefferson and Jackson counties?
Washington, Jefferson and Jackson counties were all named for men who had not yet become president. Washington County was named for George Washington when present-day East Tennessee was part of North Carolina (before the U.S. had a president). Jefferson County was formed in 1792 during the Southwest Territory era when Thomas Jefferson was vice president. Jackson County was formed in 1801 — more than a decade before the Battle of New Orleans made Andrew Jackson nationally famous and a quarter-century before he became president!
---
FORMATION QUESTIONS
How many counties were formed between 1857 and 1870?
None. Counties were formed at a consistent pace through the first half of the 19th century. Then, after Sequatchie County was formed in 1857, no counties were established for the next 13 years because of the Civil War and the chaotic years that immediately followed it. Then, in 1870 and 1871, eight new counties were formed: Clay, Crockett, Hamblen, Houston, Lake, Loudon, Moore and Trousdale.
What was the last county to be formed?
Pickett and Chester counties were both created in 1879.
What is the only county in Tennessee that ceased to exist?
James County was formed in 1871 and went bankrupt in 1919. (I wrote a column about this in April 2018.)
---
GEOGRAPHY QUESTIONS
What counties cover the largest and smallest areas?
Shelby is the largest with 785 square miles of area. Trousdale County, which is 114 square miles, is the smallest.
What counties have the highest and lowest points of elevation?
Sevier County boasts the highest point in Tennessee (Clingman's Dome: 6,643 feet above sea level). The Mississippi River in Shelby County is the lowest point of elevation (178 feet above sea level).
What counties are located at the four corners of the state?
Johnson, Polk, Shelby and Lake.
What county is at the geographic center of the state?
Rutherford. In fact, in the 1830s, Rutherford County hired a mathematician and geographer who proved that a spot northeast of Murfreesboro is the center of the state of Tennessee. (The county did this as part of an unsuccessful effort to have Murfreesboro named the state capital.) Today, there is a stone marker on the site.
What county looks nearly round on the map?
Warren County used to look nearly round on Tennessee maps. But over the years, adjustments to the boundaries have altered this a bit.
---
POPULATION QUESTIONS
If you look at census records, you can come up with some pretty fascinating information about how population shifted during Tennessee's first century of existence. For instance:
In 1810, what county had the highest population?
Knox (12,446). This seems logical since Tennessee's non-Native American population migrated from the east and moved west.
In 1830, what county had the highest population?
Tennessee's top seven counties at that time, ranked by population, were Bedford (30,444), Maury (28,153), Davidson (28,089) Williamson (26,608) and Rutherford (26,130). Meanwhile, Knox County had slipped from first to 12th in population. (In case you are wondering, Shelby County's population was 5,652, and Hamilton's was 2,274 — a number that didn't include members of the Cherokee nation.)
In 1840, what county had the highest population?
Davidson (30,509). By 1840, Davidson County had finally emerged as the most populous county in the state.
In 1860, what county had the highest population?
Shelby (48,052). From nearly no residents in 1820, Shelby grew fast and overcame Nashville by the eve of the Civil War.
In 1860, three Tennessee counties had majority African-American populations. What were they?
In 1860, Fayette, Haywood and Williamson counties all had more African-Americans than white residents. (Since Williamson County is only about 4 percent African-American today, this obviously takes people by surprise.)
Today, what county has the lowest population?
Pickett, which had only 5,077 residents in 2010. Pickett County's population is about 0.5 percent the size of Shelby County's.
The development of what has changed the population of Tennessee counties such as Williamson, Wilson and Putnam more than anything else in modern history?
The Interstate system. Since Interstate 65 was built, Williamson County's population has shot up from about 25,000 (in 1960) to 226,000 today. Since Interstate 40 was built, Wilson County's population rose from about 28,000 (in 1960) to 136,000 today. And since Interstate 40 was built, Putnam County's population rose from about 29,000 in 1960 to 78,000 today. Meanwhile, most counties not located near an Interstate have seen little, if any, population increase.
---
COUNTY SEAT QUESTIONS
How many counties have moved their county seats?
According to my research, county seats have moved at least 18 times — in Shelby, Hamilton, McMinn, Rutherford, Marion, Rhea, Obion, McNairy, Houston, Lewis, Humphreys, Perry, Jackson, Overton, Morgan, Hickman, Hardin and Carroll counties. To me, at least, the most interesting trivia here is that neither Memphis nor Chattanooga was a county seat during the Civil War. At that time, Raleigh was the county seat of Shelby, and Harrison was the county seat of Hamilton. If you would like to learn more about this, then check out the column I wrote about the topic in November 2017.