MURFREESBORO)  THE TRUMAN SHOW from AdamsPlace ran its final broadcast on Tuesday morning March 1, 2022.  Gone, but not forgotten–over the past 11-years, the former Rutherford County sheriff and talk show host has taken us all on an adventure down our "local memory lane".  The broadcast aired each weekday from 9:00 to 10:15AM over WGNS (Murfreesboro AM 1450, FM 101.9 and Smyrna FM 100.5, streaming at www.WGNSradio.com).
THE TRUMAN SHOW began January 3, 2011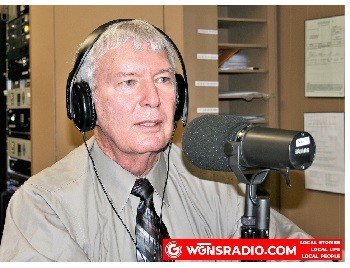 January, 2011 brought the first broadcast of this unique down-home broadcast to WGNS (Left Photo: Truman's first day on WGNS). The host was Truman Jones, the man who not only was born and raised in Rutherford County, but had also been the sheriff for several decades. He grew-up with many of the colorful characters who have become local icons in the area. They would go on to be on his radio broadcast and share memories of the Heart of Tennessee when the county's population was less than 10,000 and our vehicle's license tag number began with 8, that signified the eighth largest county in the state.

Have You Visited The Yard Sale Store's New Smyrna Location At The Former Crosslin Supply Lumber?
Today the population has exploded to over 350,000 and we no longer have the number at the beginning of the license, but it would now be 5 and pushing #4. 
Some of the regulars on Truman's broadcast have become colorful local celebrities in their own rights. County Historian Greg Tucker has been a regular guest each Monday on The Truman Show. He has given the audience a greater respect for the past and what events shaped it. 
Dr. Dan Rudd has become a friend who helped us through the pandemic with updates on what to do in order to remain healthy through COVID-19. We also remember the days when Dan broadcast with Truman after the sheriff's heart attack and got him back to normal. 
Truman is big on being healthy and staying fit. He has a vigorous work-out daily and has done so most of his life. 
Other guests have included the Stewart family, local attorney John Blankenship and the Balladeers who have specialized on memories of the Saturday morning movie features at the Princess Theater with cowboy songs. 
Truman loves baseball and Thomas Bucher has been a regular on the broadcast. In fact, Thomas' connections have also brought live appearances from family members of baseball's legends.
Truman's years as Rutherford County's sheriff have connected him with officers who have been involved with one of the first airplane hijacks ever, and it originated in Rutherford County. It has also taken us to the rural countryside where we heard about a little girl who swalloed a snake to a legal battle over a dam located beside a historic home.
The TRUMAN SHOW has been like a good book, but sadly the final chapter is being read this morning (Tuesday, March 1, 2022).  
Truman, who now has 80-years under his belt, wants to retire from what he calls a daily visit with close friends, to have time with family and for travel. 
We wish you well Truman Jones, and THANK YOU for sharing your love of Rutherford County with us for the past 11-years. And starting tomorrow (2/2/2022), for the remaining 3 days of this week, WGNS will broadcast some of the most memorable TRUMAN SHOWS. 
Here is the final broadcast of THE TRUMAN SHOW (aired on WGNS on Tuesday, March 1, 2022 from AdamsPlace)