*Imprimis is the free monthly speech digest of Hillsdale College and is dedicated to educating citizens and promoting civil and religious liberty by covering cultural, economic, political, and educational issues. The content of Imprimis is drawn from speeches delivered at Hillsdale College events. First published in 1972, Imprimis is one of the most widely circulated opinion publications in the nation with over six million subscribers.
The opinions expressed in Imprimis are not necessarily the views of Hillsdale College.
________________________________________________________________________
The following is adapted from remarks delivered on November 3, 2022, at a Hillsdale College reception in Santa Clara, California.

By Larry P. Arnn
If you want to see the problem with American education, look at a chart illustrating the comparative growth in the number of students, teachers, and district administrators in our public schools in the period between 2000 and 2019. (See the chart below.) The number of district administrators grew by a whopping 87.6 percent during these years, far outstripping the growth in the number of students (7.6 percent) and teachers (8.7 percent).
In illustrating the difference in these rates of growth, the chart also illustrates a fundamental change that has come over our nation as a whole during this period—a change in how we govern ourselves and how we live. To say a change is fundamental means that it concerns the foundation of things. If the foundation changes, then the things built on it are changed. Education is fundamental, and it has changed radically. This has changed everything else.
One way of describing the change in education today is that it provides a different answer than we have ever known to the question: who owns American children? Of course, no one actually owns the children. They are human beings, and insofar as they are owned, they own themselves. But by nature, they require a long time to grow up—much longer than most creatures—and someone must act on their behalf until they mature. Who is to do that?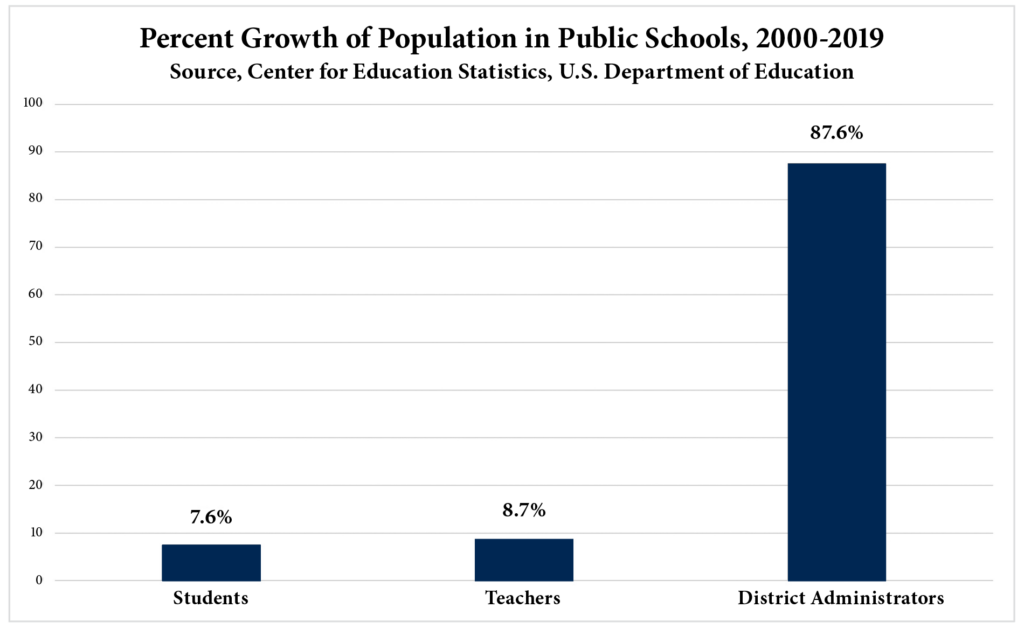 Not many people raise this question explicitly, but implicitly it is everywhere. For example, it is contained in the question: who gets to decide what children learn? It is contained more catastrophically in the question: who decides what we tell children about sex? 
To read more Hillsdale College content visit Imprimis.
Larry P. Arnn is the twelfth president of Hillsdale College. He received his B.A. from Arkansas State University and his M.A. and Ph.D. in government from the Claremont Graduate School. From 1977 to 1980, he also studied at the London School of Economics and at Worcester College, Oxford University, where he served as director of research for Martin Gilbert, the official biographer of Winston Churchill. From 1985 until his appointment as president of Hillsdale College in 2000, he was president of the Claremont Institute for the Study of Statesmanship and Political Philosophy. From October 2020 to January 2021, he served as co-chair of the President's Advisory 1776 Commission. He is the author of several books, including The Founders' Key: The Divine and Natural Connection Between the Declaration and the Constitution and Churchill's Trial: Winston Churchill and the Salvation of Free Government.