Jarrett Stepman / @JarrettStepman / 
In the weeks since the November presidential election, numerous liberals, leftists, and other opponents of President Donald Trump have called for a purge of him and his supporters from public life.
Just days ahead of the inauguration of President-elect Joe Biden on Jan. 20, those purges have begun in earnest.
In the wake of the protest that turned into a mob and then into a riot at the U.S. Capitol building, various media and high-tech companies have used the moment not simply to condemn the violence, but to remove the president of the United States and countless other Americans from their digital platforms.
It's understandable that many Americans are shaken by what they saw at the Capitol last week. It's part of a larger pattern of mob law.
But the crimes of a few lawbreakers should not be used as an excuse to punish and silence other Americans simply because of their political beliefs.
Those actions appear to be targeted and coordinated. It's a deeply disturbing trend, given that Biden and his fellow Democrats are less than 10 days from effectively controlling both Congress and the executive branch.
While Biden may be preaching "unity," in some of his public statements, he hasn't refrained from, for example, comparing his opponents with Nazis.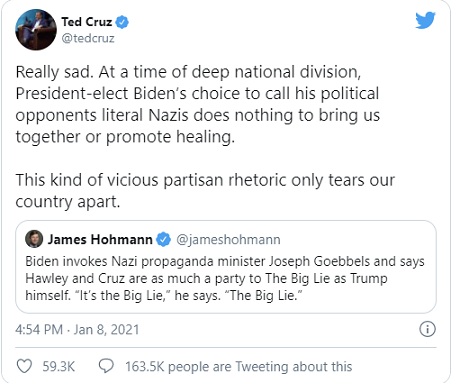 Worse, Biden's allies are almost universally celebrating the purges and calling for more retributions against political enemies. That's apparently what the anti-Trump Lincoln Project intends to do; namely, create a "blacklist" of people who worked for the Trump administration.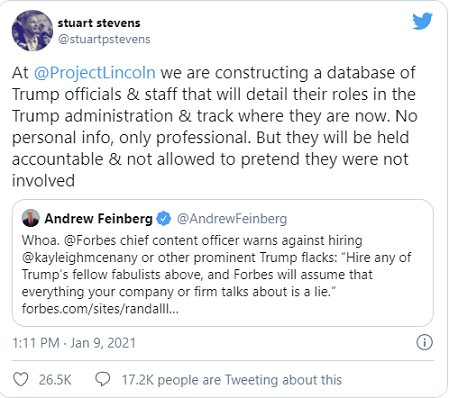 Meanwhile, an editor at Forbes magazine, Randall Lane, warned that there would be a "truth reckoning" for companies that hire or do business with former Trump staffers.
Wasn't McCarthyism supposed to be a bad thing?
These attempted purges aren't being engaged in only by media and advocacy groups.
Trump was banned on Twitter and Facebook and other platforms. Twitter's official statement cited "risk of further incitement of violence" from Trump's tweets about not attending the Biden inauguration.
But its justification still rings hollow, given how they allow the Chinese Communist Party, Venezuela's Nicolas Maduro, and the ayatollah of Iran to have a platform, as many have pointed out.
That only adds to the long list of uneven enforcement actions that we've seen in recent years from Big Tech, which almost always errs on the side of shutting down right-leaning voices-including The Heritage Foundation and The Daily Signal-before anyone else.
WHO WOULD HAVE THOUGHT??
ACLU takes a stand against Trump ban, warns America of Big Tech's 'unchecked power'
By Jack Davis, The Western Journal Published January 10, 2021 at 3:03pmLiberals who rejoice over the Big Tech hammer that came down on President Donald Trump last week are missing the point, according to an organization that has made its disdain for the president crystal clear.
On Friday, Twitter permanently suspended Trump's personal Twitter account, then followed that up by doing the same with his government and campaign accounts. Facebook has blocked Trump from posting until his term expires, at the earliest.  Those drastic steps followed decisions to remove Trump tweets and videos that Big Tech maintained contributed to the incursion at the U.S. Capitol on Wednesday and could lead to further unrest.
Kate Ruane, a senior legislative counsel at the American Civil Liberties Union said in a statement that this illustration of Big Tech's unchecked power should be a sobering lesson, even for Trump-haters.
"For months, President Trump has been using social media platforms to seed doubt about the results of the election and to undermine the will of voters. We understand the desire to permanently suspend him now, but it should concern everyone when companies like Facebook and Twitter wield the unchecked power to remove people from platforms that have become indispensable for the speech of billions – especially when political realities make those decisions easier," the statement said.
"President Trump can turn to his press team or Fox News to communicate with the public, but others – like many Black, Brown, and LGTBQ activists who have been censored by social media companies – will not have that luxury. It is our hope that these companies will apply their rules transparently to everyone," the statement said.
ABC News Political Director: 'Getting Rid Of Trump Is The Easy Part. Cleansing The Movement He Commands … Something Else.'
By  Hank Berrien     DailyWire.com
On Thursday, the political director for ABC News based in Washington, D.C., who "oversees the political unit and helps steer the network's coverage of major news events," according to ABC News, tweeted about "cleansing the movement Trump commands."
Rick Klein wrote on Twitter, "Trump will be an ex-president in 13 days. The fact is that getting rid of Trump is the easy part. Cleansing the movement he commands is going to be something else."
We need to be praying and we better tighten our seat belt.  It appears that we will have a very bumpy road ahead. One more reason to view the brief video below!!