Pandora Report

La Vergne, TENN. — The homes on Tammy Sue Lane aren't fancy. Modest in size and clad in vinyl siding, the houses were priced below $200,000 when most were built about 15 years ago, and for many families in suburban Nashville, they represented a first chance at homeownership.
A corrections officer bought one, and so did a housekeeper and an electrician.
According to a Pandora Papers investigative report, some of the world's wealthiest people bought in.
Over the past six years, 19 of the 32 homes on Tammy Sue Lane have been purchased by a billion-dollar investment venture, part of an unprecedented flow of global finance into the American suburbs. Less than 10 years old, the company has amassed one of the nation's largest portfolios of single-family houses, renting them to families who cannot afford to buy the "entry level" homes.
The venture, Progress Residential, acquires as many as 2,000 houses a month with a computerized property-search algorithm and rapid all-cash offers. Progress executives boast that the company's efficient management practices have been a boon to their tenants.
But according to previously undisclosed documents and dozens of interviews with renters and former employees, Progress Residential has been ringing up substantial profits for wealthy investors around the world while outbidding middle-class home buyers and subjecting tenants to what they allege are unfair rent hikes, shoddy maintenance and excessive fees.
"There's just no human decency," said Victoria Bates, an Amazon warehouse worker who lives on Tammy Sue Lane with her husband and 10-year-old daughter. Bates said the company regularly failed to fulfill ordinary maintenance requests. While the company said it "addressed" within five days most of the 37 work orders she submitted, Bates said most of the time it didn't fix what was needed: It took several months for the company to repair a leaky water heater, she said.
Meanwhile, Bates said, the firm levies a profusion of fees that "take advantage of regular people working paycheck to paycheck."
In a statement, Progress Residential defended its operations, including the treatment of tenants, saying that its rents and fees are in line with industry standards and market rates. Pretium officials said they adhered to the federal eviction moratorium.
"All of our entities conduct business according to the highest ethical and legal standards," the company said.
Behind Progress Residential is Pretium Partners, a New York-based investment firm whose business plan and investors are revealed in the Pandora Papers, a trove of offshore financial records obtained by the International Consortium of Investigative Journalists (ICIJ) and shared with The Washington Post.
The plan sought to exploit the 2008 U.S. housing crash, which forced millions of homeowners into foreclosure and left a glut of cheap houses for sale. The financiers' plan called for buying up tens of thousands of these properties at depressed prices and renting them to families who had lost their homes or, because of tightened lending practices, could no longer qualify for a mortgage.
The venture would 'capitalize on the severe distress in the residential real estate market in the United States,' according to the pitch memo.
To raise money for the project, Pretium Partners sent confidential invitations to people wealthy enough to put up at least $2 million. Executives projected annualized returns of 15 to 20 percent, according to a 238-page solicitation to investors in 2012. In total, Pretium Partners raised more than $1 billion, and the resulting real estate venture became Progress Residential.
The venture would "capitalize on the severe distress in the residential real estate market in the United States," according to the pitch memo. The homes would be rented to families "who have been displaced by foreclosure or are otherwise unable to obtain financing despite being able to afford a home purchase."
Among those who profited from America's housing crash, according to the documents, was a Cayman Islands trust funded by one of Canada's most powerful political donors, Stephen Bronfman, an heir to the billion-dollar Seagram spirits fortune. Another was Vikrant Bhargava, who co-founded an online gambling company that debuted on the London Stock Exchange valued at $8.5 billion. Pretium made legal arrangements so such foreign investors would have limited exposure to U.S. taxes, according to tax experts.
While the documents do not identify most of the other investors, they show that an outsize share of the potential profit was earmarked for Donald R. Mullen Jr., founder and chief executive of Pretium Partners, and others in the firm.
Mullen is well known in financial circles for his tenure at Goldman Sachs, where he helped oversee that firm's lucrative bet against U.S. housing and mortgage markets ahead of the 2008 crisis. That bet, a strategy popularly known as "the big short," allowed Goldman to profit as markets plummeted.
With the Progress Residential venture, Mullen bet in the other direction — that the houses it was buying would increase in value. By 2019, according to a press release at the time, the venture had nearly doubled investors' equity.
While those kinds of profits have inspired admiration on Wall Street, the reaction has been different on Tammy Sue Lane and in other Sun Belt subdivisions where Progress Residential and similar firms are devouring the housing supply and outbidding families. Rutherford County, where Tammy Sue Lane is located, ranked asthe fifth-least affordable U.S. county for home buyers when considering wages in the area, according to the real estate data firm ATTOM Data Solutions.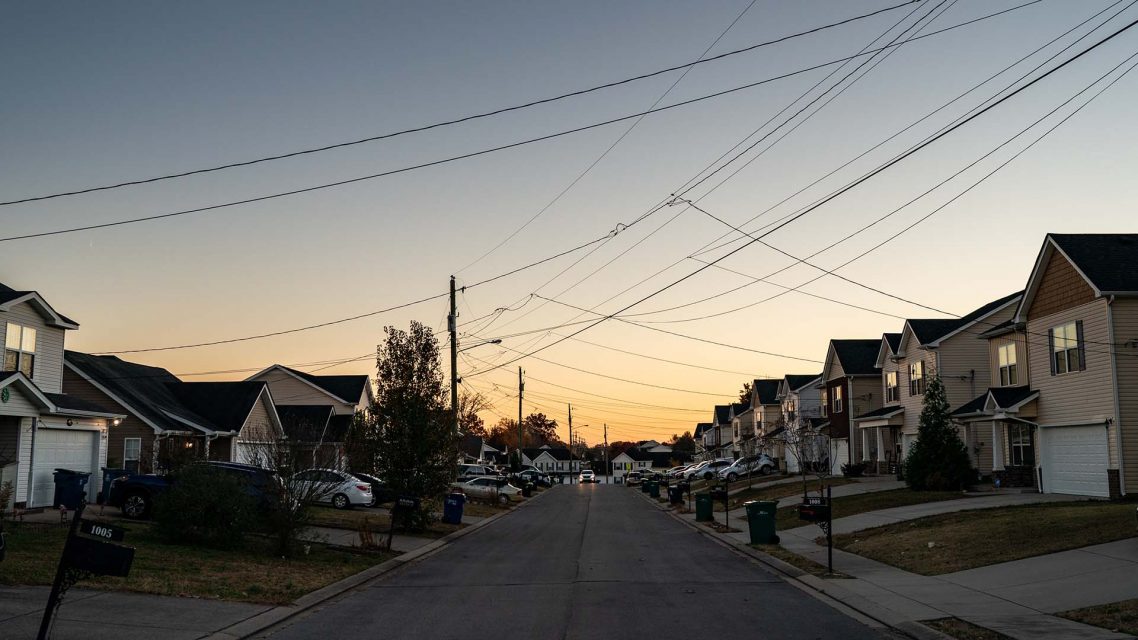 Rob Mitchell, the county property assessor, says nearly 1 in 10 homes there is now owned by a real estate investment trust, and these investments are jacking up house prices.
These ventures are "equity-mining our community — removing generational wealth for an entire demographic of people," said Mitchell, a Republican elected official. "For the average person starting out wanting to start their family, the choice is no longer: Can I purchase a house? It's instead: Can I afford to rent a house?"
While buying up block after block, Progress also has been accused of aggressively evicting tenants. Congress is investigating whether Progress and other major rental firms violated a national moratorium on evictions during the pandemic. Sen. Sherrod Brown (D-Ohio), chairman of the Senate Banking Committee, has requested that Progress explain why its pandemic-era eviction filings appear to have fallen more heavily on majority-Black communities.
More than 3,000 people across the nation have joined a Facebook group for tenants called Victims of Progress Residential. The site is an eruption of tenant complaints — about evictions, but also lost security deposits, costly fees, calls that go unanswered, an array of maintenance issues — that echo those of Progress renters in Rutherford County.
"They're preying on all these people," said Cindy Hicks, a hospital revenue specialist who lives in a Progress home near Tammy Sue Lane. Hicks said that when she was late on rent the company was quick to file for eviction and charged her a related fee of hundreds of dollars even after she paid up.
"Because of the customer service, we hope to be moving out soon," said Odera Okafor, an IT worker who lives on Tammy Sue Lane with his wife and 12-year-old child. In just a few years, he said, he's had repeated problems with an air-conditioning unit that froze and plumbing issues.
"I can't tell you who is behind Progress Residential. All we can tell you is it's been bad," said Ashley Baltimore, a delivery driver who, with her husband, rents one of the company's houses on Tammy Sue Lane for $2,020 a month. That's up more than 30 percent from when they moved in in 2016, roughly in line with the area's rapidly rising rates.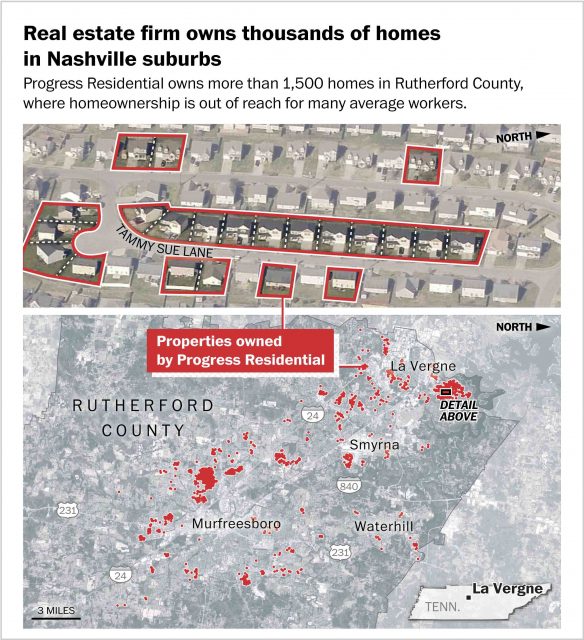 In a statement, Pretium Partners said it treats tenants fairly and promptly responds to their complaints. The company said the tenants who complained to The Post and ICIJ constituted a very small portion of its 200,000 residents.
"Pretium is dedicated to being a part of the solution to our nation's housing crisis through unparalleled efforts to support our residents and communities," the firm said.
To Read Full Story Visit: https://www.icij.org/investigations/pandora-papers/how-a-billion-dollar-housing-bet-upended-a-tennessee-neighborhood/